I was randomly searching through some pictures of Victorian gowns when I came across this painting:
I Love it. I ADORE it. Who cares that I have absolutely nowhere to wear it and no reason to make it. This dress is happening.
So first thing's first, a break down of the dress. The 1890's aren't an era I've spent a lot of time researching so I've been working on fixing that in order to understand this dress.
The skirt's a fairly straightforward skirt of its time, what makes it interesting is the way the fabric is cut so that the stripes create a pattern. Unless that was how the actual fabric looked? I'm going to assume those are seams because there is no way I can find that exact fabric otherwise.
Next we've got a Swiss Waist with buttons down the front. These were corset-like (But NOT actual corsets, corsets are undergarments, they go UNDER the dress. Sorry this issue really bugs me!) garments, it will be boned and probably laces up in the back. for a better understanding on the Swiss Waist check out this excellent article.  http://thedreamstress.com/2012/07/swiss-waist-waist-cincher-corset-and-corselet-whats-the-difference/
The bodice really had me confused for a while, at first look I though it was low cut-something you only saw on evening gowns, which this is not. I spent an entire day looking at extant dresses, fashion plates, and pictures trying to find evidence that there were afternoon/walking dresses with this neckline.
Then I looked at it again and it was like an iron skillet walloped me in the head; THAT'S NOT SKIN THAT'S HER BLOUSE.
Oh, yeah, that makes sooo much more sense.
So we've got this shirtwaist with a matching piece of the striped fabric at her throat. Unfortunately it's really hard to see the details in the painting so I'm still not sure how I'll be putting it together yet.
Finally the sleeves. Those sleeves. WHAT THE HELL IS GOING ON WITH THOSE SLEEVES?
My issue here is that they look like something you would have seen two decades prior when the Victorians went all patriotic and revived the colonial style briefly to celebrate our nation's centennial. The 1890's best known sleeves were the infamous leg o' mutton sleeves (usually to the wrist). The sleeves in the painting do have a bit of the cap I would expect and are a little bit full.
After a ton more research I finally found one example of a dress with similar sleeves. (Though this dress might be later than the one in the painting?)
This makes me feel a little better. I want to make the exact dress from the painting but I also want to make sure it's accurate. This is good enough for me.
I found the black and gray striped fabric on etsy;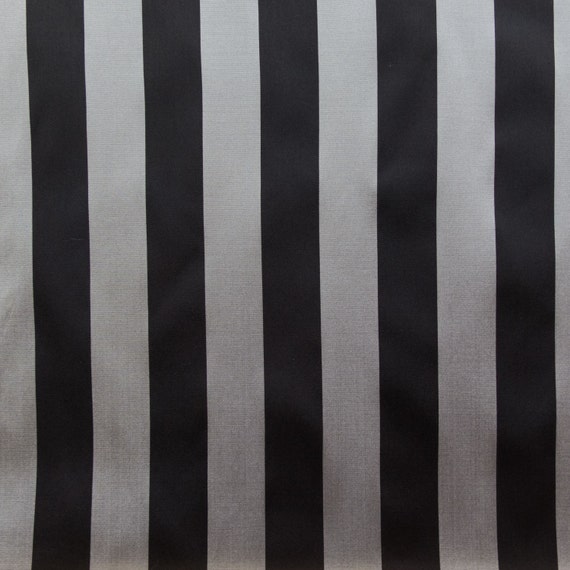 Now I just have to get past my guilt of spending money on fabric for a dress I don't need …
The bodice part and the fluff on the sleeves looks like it's made of some sort of blonde sheer/lace. It looks cool in the picture but I'm worried how the cream will look with the gray in real life. Guess I'll just have to wait and find out.
No matter what, I am determined to make this dress. I have never followed through and actually made a historical gown. Something always happens whether an event is cancelled or I get distracted (which happens more than I'd like to admit!) Well, not this time, I may have to ban myself from the realm of Pinterest though.